Hierarchy of Investment Advice and What Makes Fee-Only Different
There are a lot of advisors, using a lot of different names to describe what they do. It can get a little confusing. We broke down the different types of financial and investment advisors into three categories – our hierarchy of financial advice. We also included their duty to the client, how they are compensated, and how they give advice. The Hierarchy of Investment Advice, as seen below, better illustrates what makes fee-only different.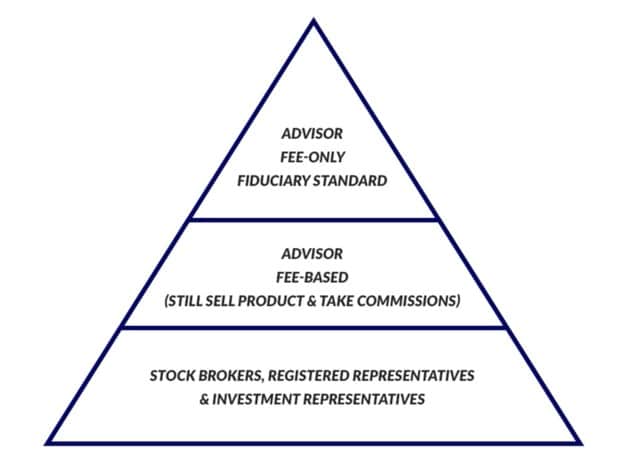 Stockbrokers & Registered Investment Representatives
At the bottom of the financial advice hierarchy, we have stockbrokers, and registered investment representatives. They have no real duty to their clients. Their only requirement is to generally provide "suitable" product recommendations, but "suitable" is not well defined. They are compensated through sales commissions. In short, the more investment products they sell you, the more money they earn. The advice they give is compromised by their sales commissions because either way, they are focusing on the sale.
Fee-Based Advisors
In the middle of the financial advice hierarchy, we have fee-based advisors. They have no real duty to their clients. They can charge a fee for advice, but they also sell products for a commission. Fee-based advisors have the same suitability standard, but ultimately they again tailor their advice towards selling you investment products. Any advice they give is most likely part of their sales pitch and has an inherent conflict of interest.
Fee-Only Advisor
At the top of the financial advice hierarchy, we have the fee-only advisor. They have a fiduciary duty to their clients. In other words, they have a legal obligation to act in their client's best interest. Fee-only advisors charge a fee for their objective financial advice. They do not sell any investment products and they do not make commissions on sales. This ensures that all advice given is free from any conflicts of interest. At First Financial Consulting, we are proud to say that we fall into the highest category of financial advice.
So…What Makes Fee-Only Different?
First Financial Consulting has enjoyed a long history of providing our clients with objective, fee-only financial advice. We've boiled the benefits of using a fee-only financial advisor down into 6 main points.
1. We Are Objective
Because we do not earn money from selling a product, we provide unbiased financial advice, free of any conflict of interest. At First Financial Consulting, we are also fiduciaries and thus are required to act in the most ethical manner possible.
2. We Act in Your Best Interests
We do not accept commissions. Our advice is our only "product", so there is a direct financial incentive to work in your best interest and develop solutions that fit your specific needs.
3. We Look at the Whole Picture
Our team works to understand the totality of your situation in order to provide advice that will tell you where you are now, where you want to go, what impediments may be in the way, and what steps will actually accomplish your goals.
4. We Provide Comprehensive Solutions
We assess the full picture in order to provide comprehensive solutions that show how you can actually achieve your goals. Our advisors focus on all the solutions available to actually help you because their compensation and reputation are dependent on results, not product sales.
5. We Give Unbiased Financial Advice Whenever You Need It
Our sense of mission is determined by your needs, not by a product sales cycle. When you need advice, you get it; and you will never be stuck paying on-going commissions for a product you might not need in the first place.
6. We Can Provide an Objective Second Opinion
There are times when you may be content with your current financial advisor, but just want a second opinion. Our compensation basis allows us to provide a much-needed second opinion honestly, and there will never be an incentive to lambaste the existing advisor in order to sell a product.
First Financial Consulting is dedicated to providing our clients with objective, fee-only financial advice. Not many 'financial advisors' out there can say that. As always, we are here to help. If you have any questions, or even if you just want a second opinion, do not hesitate to reach out and schedule a complimentary consultation meeting.